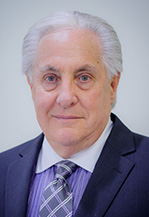 Mr. Richard J. DeLuca
Instructional Specialist | Information Management and Business Analytics | Feliciano School of Business
Location:
463
Email:
delucar@montclair.edu
Biography
DeLuca is a senior business leader with over 30 years experience in business and product development with a solid Profit and Loss track record.
He offers extensive experience, not only in commercializing new technologies, but in driving market penetration both domestically and globally. Both as a line manager and as a consultant, he has a demonstrable track record in both Business-to-Business and Consumer products management.
A cornerstone of his experience is building high-performance teams in industries ranging from engineered materials to wireless to software to eyewear and to machine tools. In addition to his experience which includes companies such as General Electric and TRW, as well as start-ups, educationally DeLuca possesses and MA in Labor and Industrial Relations from the University of Illinois and an MBA from the University of Texas.
Expertise
Business Planning, Business Management, Strategic Planning
Education
MBA, 1979, University of Texas, Arlington, TX
MA, Labor & Ind. Relations, 1971, University of Illinois, Champaign, IL
BA, Business Administration, 1969, St. Michaels College, Winooski, VT
Professional Experience
, Hydrocoil Power, Inc.. (2010 - Current).
Research
Article on a process for accelerating the Strategic Planning process. Article already has copyright status.