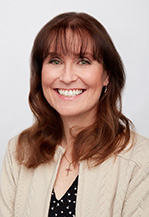 Ms. Ellie Esposito
Coordinator, Accreditation and Quality | Dean's Office | Feliciano School of Business
Location:
290M
Telephone:
973-655-3339
Email:
espositoe@montclair.edu
Biography
Ellie joined Montclair State University in July, 2016 as part of the College of Education and Human Services. She moved to the Feliciano School of Business in March, 2018 as the Coordinator of Accreditation and Quality. Prior to joining MSU, Ellie worked at Ramapo College, Rutgers University, and spent eight years as a teacher in K-12 education. Before moving into the world of academia, Ellie had a sixteen year career at American Express. She received a BS in Travel Management from Rochester Institute of Technology and went on to earn an MBA from Adelphi University and an MA in Education/Reading Specialization from Kean University
Education
MA, Education, 2012, Kean University, Union, NJ
MBA, Business Administration, 1992, Adelphi University, Garden City, NY
BS, Travel Management, 1988, Rochester Institute of Technology, Rochester, NY
Professional Experience
Coordinator, Accreditation & Quality, Montclair State University. (March 2018 - Current).
Offsite & Special Programs Administrator, Montclair State University. (July 2016 - March 2018).
Program Assistant, Ramapo College of NJ. (January 2015 - July 2016).
Administrative Assistant, Rutgers University. (August 2013 - January 2015).
Reading Specialist, Edgewater Board of Education. (September 2012 - August 2013).
Teacher, South Orange-Maplewood Board of Education. (February 2006 - August 2012).
Senior Manager, American Express. (July 1989 - October 2005).
Honors and Awards
President's Staff Leadership Award , Ramapo College of New Jersey. (June 2016).
SE Excellence Award , American Express.
Chariman's Award for Quality , American Express.