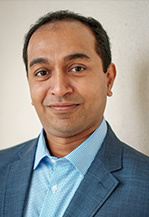 Dr. Naushad Kollikkathara
Instructional Specialist | Information Management and Business Analytics | Feliciano School of Business
Location:
489
Telephone:
973-655-7715
Email:
kollikkathan@montclair.edu
Biography
Professor Naushad Kollikkathara has over ten years experience in academic research field including in business development, data analytics, visualization, environmental resource management, computational modeling and statistical analysis. He has a Ph.D. in the inter-disciplinary field of Environmental Resource Management and an MBA in Business Management. He has over six years of experience in roles as Business Process Manager, Sustainability Officer and Managing Principal positions for regional and multi-national firms. He has taught as Adjunct Professor at SUNY Westchester College as well as at Montclair State University. He has several scholarly publications in peer-reviewed high impact journals and has delivered presentations in national and international conferences.
Expertise
Business Process Engineering<br>Resource Management<br>System Dynamic Modeling and Strategic Planning<br>Business Analytics<br>Data Visualization
Education
MBA, Business Administration, 2015, Montclair State University, New Jersey
Ph D, Environmental Management, 2010, Montclair State University, New Jersey
MS, Earth Sciences, 2001, University of Kerala, Kerala, India
Professional Experience
Instructional Specialist, Montclair State University. (September 2015 - Current).
Adjunct Professor, Montclair State University. (January 2015 - August 2015).
Business Process Manager and Sustainability Officer, Weleda Inc.. (January 2012 - December 2014).
Managing Principal, Systems Knowledge Institute. (June 2010 - October 2012).
Adjunct Professor, SUNY Westchester Community College. (2008 - 2009).
Consulting
Technical/Professional Work, Koldas Technologies LLC, Vly Cottage, New York. (December 2015 - Present). Science and technology development firm specializing in core research, development and commercialization of promising technologies to help solve needs of tomorrow
Management Consulting, Impact Research, New Jersey. ( - Present). Provided consulting to local branch of multinational firm to improve business operational processes by evaluating, redesigning and executing new operational process flows.
Honors and Awards
Inducted Beta Gamma Sigma Business Honor Society , Bet Gamma Sigma. (June 2015).
Inducted Honor Societyof Alpha Epsilon Lambda , Alpha Epsilon Lambda.
Certificate of Acheivement , NJ Department of Community Affairs.
Inducted to Honor Society of Phi Kappa Phi , Phi Kappa Phi.
Doctoral Research Scholarship , National Council of Scientific and Industrial Research, New Delhi.
Research
Title: Computer Simulations and Learning: A Study of Effects and Outcomes. Description: Impact of computer simulations on students learning of management concepts. The work tries to address the following questions Do simulations help students develop a sensitivity to small(er) changes in a variable than simply reading about how variables interact? When are simulations better for learning? Do simulations provide better learning of difficult subjects? How does the use of a simulation alter the way a class is taught by the instructor? What changes do they need to make when a simulation is used? Is performance on the simulation a function of time on task?
Title: Project Management Traits : a cross validation study. Description: An assessment of key project management traits that are desired in the industry as compared to that emphasized in peer literature, with recruiter survey based corroborations.
Refereed Published Articles
Ravinder, H., Kollikkathara, N. (2018). Project Management in Operations Management Textbooks: Closing the Gap. Journal of the Academy of Business Education, 18 (Winter), pp. 307 - 324.
Kollikkathara, N. (2010). A System Dynamic Model for Waste Prediction and Response Assessment.. Waste Management | Elsevier, 30 pp. 2194-2203.
Kollikkathara, N. (2008). A Purview of Waste Management Evolution: Special Emphasis on USA. Waste Management | Elsevier, 29 pp. 974-985.
Chopping, M., Su, L., Laliberte, A., Rango, A., Peters, D., Kollikkathara, N. (2006). Mapping Shrub Abundance in Desert Grasslands using Geometric-Optical Modeling and Multi-angle Remote Sensing with CHRIS/Proba. Remote Sensing of Environment | Elsevier, 104 (1), pp. 62-73.
Books & Chapters Published
Kollikkathara, N. (2012). Assessing Human Dimensions of Environmental Change due to Urban Waste Generation Characters: A System Dynamic and GIS Analysis Study. (pp. 449-467). Santa Barbara, CA: Praeger Publishers.
Published Proceedings
Kollikkathara, N. (2003). Development of Information System for Natural Resources Management of Kavarati Island, Lakshadweep. Ahmedabad: Indian Society of Remote Sensing.