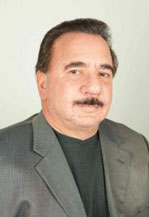 Biography
Joseph LiPari, CPA, MBA is an associate professor in the Department of Accounting & Finance, teaching courses in Financial Accounting, Intermediate Accounting, and Taxation. He brings to the classroom over 25 years of practical experience in accounting and taxation. In addition to teaching at Montclair State, where he has been a member of the full-time faculty since 1988 as well as an adjunct instructor prior to that, he maintains an accounting and tax practice in Clifton, NJ, where he specializes in Individual, Partnership, and Corporate Taxation as well as small business consulting.
Professor LiPari has been the recipient of many awards for his teaching excellence and has been an active member of many committee's at Montclair State as well as in professional organizations and the community at-large. He has also served as a four term elected member of the North Haledon Board of Education including a term as its President. Professor LiPari is also an active researcher primarily in the field of Taxation and has published numerous articles in a variety of tax journals. Professor LiPari received his undergraduate degree in Business Administration from Montclair State and his MBA in Accounting and Taxation from Fairleigh Dickinson University.
Expertise
Federal Taxes
Education
MBA, Accounting and Taxation, 1981, Fairleigh Dickinson University, Rutherford, NJ
BS, Business Administration/Accounting, 1977, Montclair State University, Montclair, NJ
Consulting
Technical/Professional Work, Joseph LiPari, CPA , Tax & Accounting Services/Small Business Consulting, 1030 Clifton Avenue, Clifton, NJ 07013. ( - Present). I have practiced public accounting in my small accounting firm specializing in taxation, corporate accounting, and small business consulting. Current client base of approx 250 individuals, corporations, partnerships and LLC's. approx. 600-750 hours per year
Honors and Awards
2016 Five Star Certified Public Accountant , New Jersey Monthly Magazine. (January 2016).
2015 Five Star Certified Public Accountant , New Jersey Monthly Magazine. (January 2015).
2014 Five Star Certified Public Accountant , New Jersey Monthly Magazine. (January 2014).
Professor of the Year - 14 Time Recipient , MSU Accounting Society. (April 2006).
Research
Taxation of Social Security Benefits - Baby Boomers Beware !
What is the New Net Investment Income Tax ?
Refereed Published Articles
Villano, P., Lipari, J. (2020). Trust Matters: Navigating the Ins and Outs of Trusts. TaxPro Journal (NATP - National Association of Tax Practitioners), 27 (1 / 2020), pp. Pages 6 through 17.
Villano, P., Lipari, J. (2017). Gift Taxes - An Overlooked Law. TAXPRO Journal,
Lipari, J., Villano, P., (2017). The Whistleblower Program. TAXPRO Journal,
Lipari, J. (2014). A Closer Look at the Passive Activity Rules and Suggestions for Reform. TAXPRO Journal,
Pinto, J., Lin, B., Lipari, J. (2012). Financial Statement Analysis-A Few Considerations from Multinational Companies. Today's CPA, 39 (5), pp. 30-36.
Lipari, J. (2011). More Highlights of the Small Business Jobs Act of 2010. TAXPRO MONTHLY,
Lipari, J. (2010). Taxpayer Implications of an Economic Downturn. TAXPRO Quarterly Journal,
Lipari, J. (2010). The Small Business Tax Act of 2010, Good Provisions and Bad.
Lipari, J. (2010). Underreporters Beware-IRS Launches New Program. Taxpro Journal,
Lipari, J., Pinto, J. (2009). Housing Assistance Tax Act of 2008-Good News and Bad News. Taxpro Journal,
Lipari, J. (2005). Is it Time to Reform Section 469?. TAXPRO Quarterly Journal,
Lipari, J. (2002). The Flat Tax is it Time to Reconsider?. Tax Notes,
Pinto, J., Lipari, J. (2000). Hidden Benefits of the Nanny Tax. The CPA Journal,
Lipari, J. (1992). Tax Planning with Real Estate. Journal of Personal Financial Planning,
Lipari, J. (1991). Exempt Organizations-Latest IRS Target. The Exempt Organization Tax Review,
Lipari, J., Yang, J. (1990). OBRA - 1990: Significant Tax Provisions for Individuals. Business & Tax Planning Quarterly, 6 (4), pp. 28-32.
Lipari, J. (1990). Clergy Compensation Raises Special Tax Problems. Journal of Taxation of Exempt Organizations,