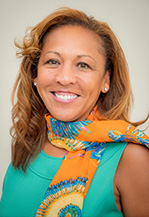 Biography
For the last 3 years, she has worked at Feliciano B-school teaching a course on Sustainability & Innovation.
She was at Wyndham Worldwide for 15 years and as SVP of CSR, she led their program policies, reporting and strategies which included sustainability, philanthropy, wellness, diversity, human rights, ethics and responsible sourcing. Also as VP of Marketing, Innovation and Product Development, she spearheaded development of hotel prototypes, interior designs, branding strategies, and programs across 7 brands. For five years, she was an independent consultant and provided counsel to small and large corporations regarding new business development, brand repositioning, go-to-market plans and growth strategies. External Partnerships: She chaired the Sustainability Group of the World Travel & Tourism Council where she co-led the development of Environmental, Social Governance Reporting for the industry and chaired the Board of Directors of the USGBC of New Jersey. She was also a member of the International Tourism Partnership organizations where she participated in setting industry standards like the Hotel Carbon and Water Metric Initiative, Human Rights Policies and Youth Employment used by over 20,000 hotels today. Wyndham was a recognized corporate leader working with the Clinton Global Initiative and the Department of Energy's Better Building Challenge in setting impactful programs. She is currently on the board of New Jersey's Performing Art Center and the Executive Women of New Jersey.
Expertise
Marketing, Innovation,Corporate Social Responsibility, Strategy, Sustainability, Entrepreneurship
Education
MBA, Marketing with a minor in Entrepreneurial Management, 1985, University of Pennsylvania, Wharton School, Philadelphia Pennsylvania
BA, Psychology and Economics, 1981, Stanford University, Stanford California
Professional Experience
Senior Vice President Corporate Social Responsibility Officer, Wyndham Worldwide. (March 2007 - June 2018).
Vice President of Marketing, Innovation and Product Development, Wyndham Hotel Group. (February 2005 - February 2007).
Senior Director of Marketing, Ramada Worldwide. (January 2003 - January 2005).
Independent Consultant, Small to Large corporations. (September 1997 - December 2003).
Product Manager to Director/GM, Avon Products Inc.. (June 1987 - September 1997).
Marketing Manager, Time Warner Inc.. (January 1985 - June 1987).
Honors and Awards
Women in Leadership Award , Boy Scouts of America. (April 2018).
Ethisphere's World's Most Ethical Company 2013-2018 , Wyndham Worldwide. (March 2018).
Dow Jones Sustainability Leader 2012 -2018 , Wyndham Worldwide. (February 2018).
100 Greenest Companies in America by Newsweek 2012-2018 , Wyndham Worldwide. (January 2018).
Human Rights Campaign Corporate Equality Index Leader 2012 - 2018 , Wyndham Worldwide. (January 2018).
Carbon Disclosure Project 2013 - 2018 , Wyndham Worldwide. (January 2018).
Movers and Shakers , NV Magazine. (December 2017).
Clinton Global Initiative Recognition , Clinton Global Initiative.
Arbor Day Corporate Leadership Award , Wyndham Worldwide. (April 2016).
Most Powerful Women in NJ , NJ Biz Magazine. (March 2016).
Obama Better Business Recognition , White House.
25 Most Influential Black Women In Business , Network Journal. (October 2015).
One of the Most Powerful Women in the Industry , National Diversity Council. (September 2014).