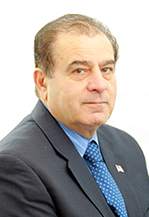 Biography
Zaman Zamanian is the department chair in the Department of Economics, teaching courses in Real estate, business forecasting and macroeconomics. He brings to the classroom over twenty five years of experience in macroeconomics both domestically and internationally.
Dr. Zamanian developed the real estate concentration along with courses such as Principals of Real Estate and Commercial Real Estate. He is responsible for students participating in internships in the concentration.
Dr. Zamanian received a PhD degree from Indiana University, Bloomington IN and taught at Indiana University and Central Michigan University.
Expertise
Real Estate Finance
Business Forecasting
Macroeconomics
International Economics
Education
Ph D, Economics, 1983, Indiana University, Bloomington Indiana
Consulting
Litigation Expert Consultant/Support, , . ( - Present).
Research
Demand and Supply of Housng sctor and Business Cycle
Monetary Policy and Housing Market
Refereed Published Articles
Gharehgozli, O., Nayebvali, P., Gharehgozli, A., Zamanian, Z. (2020). Impact of COVID-19 on the Economic Output of the US Outbreak's Epicenter. Economics of Disasters and Climate Change, 4 pp. pages561–573.
Berisha, E., Meszaros, J., Zamanian, Z. (2019). Quantitative Easing and Median Income: A State-Level Analysis. Applied Economics,
Kim, D., Son, M., Zamanian, Z. (2007). Is Managerial Discretion Higher in Multinational Firms?. Global Business and Finance Review, 12 (3), pp. 31-40.
Ozenbas, D., Zamanian, Z. (2006). Day of the Week Effects in Intra-Day Volatility Patterns of Equity Markets: A Study of US and European Stock Markets. International Business & Economics Research Journal, 5 (6), pp. 45-58.
Zamanian, Z. (1989). Key Export Industries and Economic Development. Southern Economic Jpirnal, 56 (1),
Zamanian, Z. (1987). Government Policy and the Brain Drain. Atlantic Economic Journal, IV (4),
Published Proceedings
Lord, R., Zamanian, Z. (2009). The Interrelationship of Carbon Dioxide Emissions with Technological and Economics Development. : 11th International Conference of the Society for Global Business and Economic Development.